The REACH Delivery service is used by manufacturers, importers, distributors and downstream users worldwide. It supports the sending, receiving, internal distribution and automated update of Safety Data Sheets and associated documents for large and small companies alike. It meets the delivery requirements for REACH compliance (as well as other similar legislation in the U.S. and other countries worldwide) by guaranteeing delivery and monitoring and auditing the actual receipt by your customers and staff.
You can use REACH Delivery to automate the sending and updating of your documents but your customers can still receive them by email, or they too can elect to use REACH Delivery to receive (and send) their documents. Either way you are able to monitor, track and report on the process, whilst retaining a delivery status on all documents sent to and received by your customers.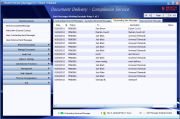 The service is easy to use and access, and is designed to dramatically reduce the time and cost of administration in maintaining compliance.
You can try out the service free of charge and with no obligation. On the 'Professional Account', it is always free to receive unlimited documents and messages for both you and your customers. Charges apply only to sending documents, and are set on a low cost 'pay as you use' basis.